The United Nations has dispatched an envoy to North Korea for a rare visit aimed at defusing tensions over Pyongyang's intercontinental ballistic missile launch, as the US and South Korea began joint military exercises condemned by North Korea's leader Kim Jong-un.
A senior United Nations official who is visiting North Korea was not carrying a message from the US government, the State Department said Tuesday.
U.N. Undersecretary-General for Political Affairs Jeffrey Feltman, center, poses with two unidentified accompanying colleagues upon arrival at the Pyongyang International Airport in Pyongyang, North Korea, Tuesday, Dec. 5, 2017.
From Dec. 5 to 8, Feltman, a former U.S. State Department official, will meet a number of officials including Foreign Minister Ri Yong-ho, United Nations spokesman Stephane Dujarric told reporters.
He is now said to be in Beijing ahead of his departure to the North.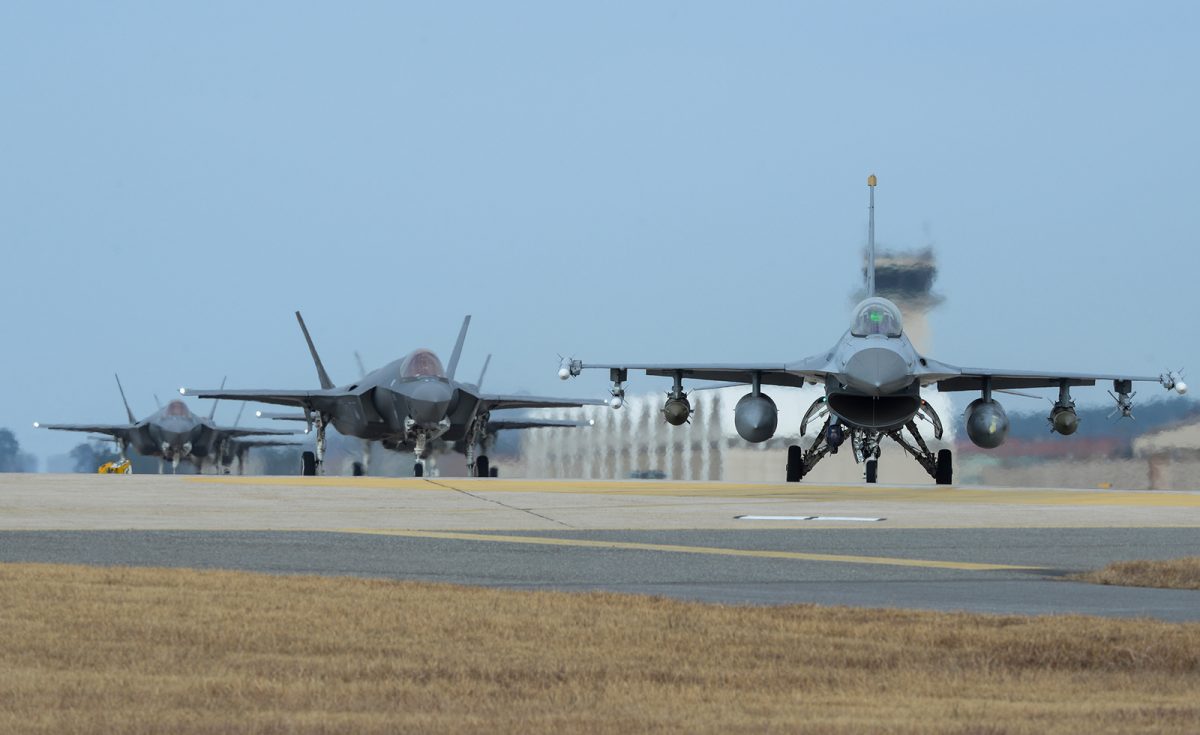 Feltman arrived in China as Beijing is one of the few transit points to North Korea in the world.
Pyongyang ramped up already high tensions on the Korean Peninsula five days ago when it announced it had successfully test-fired a new ICBM, which it says brings the whole of the continental United States within range.
The spokesman said that Feltman's trip was in response to an invitation extended by the North during the UN General Assembly in September, adding the visit was fixed late last week. The spokesperson added that the Under-Secretary will meet with some of the 50 members of staff working for the 6 United Nations agencies in North Korea, and will visit some of the United Nations projects himself.
North Korean leader Kim Jong Un and U.S. President Donald Trump, meanwhile, have traded insults and engaged in escalating rhetoric in recent months.
Over the weekend, Pyongyang countered that Washington was "begging for nuclear war" as the North blasted the joint US- South Korean drills.
Capcom announces Mega Man 11 with new hand-drawn art style
Mega Man 11 will stay true to it's beloved action/side-scrolling roots but just with an updated look and 3D visuals. This feature will also roll out to existing owners of the game on PlayStation® 4 system, Xbox One , and PC.
Russian Federation rejects U.S. call to cut ties with North Korea
China provides about 90 percent of North Korea's energy needs and a year ago shipped around 6,000 barrels per day to Pyongyang. He also complained that the United States was "totally ignoring" a U.N. demand for talks with North Korea.
Undocumented immigrant acquitted in Kate Steinle murder trial
During the presidential race, then-candidate Donald Trump cited the killing as a reason to toughen USA immigration policies. Under local sanctuary city rules, local law enforcement won't hold a person beyond the term of their incarceration.
Top Stories
AMD Always Connected PCs will include Qualcomm modems
That's not all as standy time is quoted at 700 hours and HP says you can get 0-90 percent charge in just 90 minutes. As a result, first impressions from the new devices aren't hugely different from any other Windows 10 device.
Amazon Australia Is Officially Here (For Real This Time, No Jokes, OK?)
Australian customers can now also access Prime Video and Twitch Prime , for an introductory price of US$2.99 ($4.00) per month.
Selena Gomez gives tearful speech thanking friend who gave her a kidney
Gomez also thanked friends and family for sticking by her through "hard times ", and noted that women, in particular, have been driving forces behind her recovery.
Paul Pogba sees red over Arsenal's Laurent Koscielny reaction to dismissal
Paul Pogba was shown a straight red card for a tackle on Hector Bellerin with just over a quarter hour to play in North London. As well as his anger at Pogba's treatment, Mourinho was frustrated at what he saw as Arsenal diving in the closing stages.
Nissan Kicks First Look: City-Friendly and Focused on Fuel Economy
The Kicks SR Premium Package adds Bose Personal Plus sound system with speakers inside the seat. Actually, Nissan claims that the Kicks could even rival subcompact cars such as the Honda Fit.
US Adults Fix Obesity at Early Age
The model indicated that being overweight or obese early in life bumped up the risk for being obese later in life. The majority of children growing up in America today will be obese by age 35, a new computer analysis predicts.
GOP's tax plan will hurt college students
They argue that the plan will cause graduate students to struggle financially and discourage them from getting a higher education. O'Shea wrote. "Enactment of those provisions would hurt students and their families and limit access to higher education".
India Just Backed Net Neutrality
Trai had partially addressed the topic of Net neutrality in February 2016 when it ruled in favour of prohibiting discriminatory tariffs for data.
Massage Envy Therapists Face Sexual Assault Allegations From Over 180 Women
She opted instead to phone the police, and Deiter admitted to assaulting Ingram during questioning. Numerous lawsuits claim the reports were ignored or mishandled by the company.
Microsoft Office Apps Come to All Chromebooks
Microsoft has been developing an Android Chromebook version of its do-everything Office suite of programs for about a year now. Along with the manufacturers, Chromebook users would also be happy with the apps even if they were satisfied with G Suite.